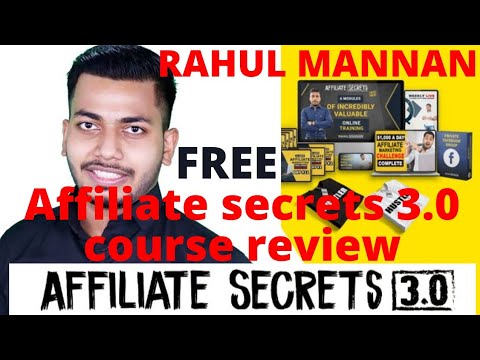 Rahul Mannan is a young experienced Affiliate Marketer & one of the best affiliate marketers in India. In a short span of time, Rahul Mannan has gained lots of success in the field of Affiliate Marketing. The course designed by Rahul Mannan is Affiliate Secrets 3.0.
Rahul Mannan at the age of 18 started Affiliate Marketing and made an impact in this industry where people fail to earn money in Affiliate Marketing. After some time, people would leave Affiliate Marketing if they don't earn any commission and feel that Affiliate Marketing is not their cup of tea.
Before this, he had done selling printed T-Shirts and Designing T-shirts online where he made losses, then he started Dropshipping there also failed. But then he started Affiliate Marketing where he gained success.
He has tested many proven strategies in various Google and Facebook Campaigns. The strategies that are shown can be implemented by anyone i.e fresher or experienced person can also implement the strategies and get the best results.
A big "YES" to all who want to learn Affiliate Marketing and want to earn money in this industry.
There are many videos in YouTube where you will get an idea of Affiliate Marketing, but there is no practical anywhere except in Affiliate Secrets 3.0 course.
You will learn from scratch each and everything in Affiliate Marketing. The best part of this course is that you will learn in HINDI.
Anyone can join this course who are action takes and can implement his strategies and find success.
I have personally implemented his strategies and gain success.
The course is worth more than money it is affordable.
Now let's talk about the course what it includes. There is a total of 16 Modules in the course.
Module 1 – Introduction
Module 2 – Niche Selection
Module 3 – Product Selection
Module 4 – Funnel Building
Module 5 – Value
Module 6 – Traffic Generation
Module 7 – Bonus
Module 8 – Email Marketing
Module 9 – Outsourcing
Module 10 – Mindset of an Affiliate Marketer
Module 11 – Bonus 30 Days 100 Dollar a Day Challenge
Module 12 – Bonus 30 Days 1000 Dollar a Day Challenge
Module 13 – Extra Bonus
Module 14 – How I earned 17 Lacs in 1 week
Module 15 – Affiliate Marketing | Beginner To Advanced
Module 16 – YouTube Videos
Extra Bonus1 – Join Private Facebook Group
Extra Bonus2 – Hustler T-shirt
Extra Bonus3 – Consultation
In addition, you will also get Lifetime Access to the course and free lifetime updates of the course.
So If you want to make a career in Affiliate Marketing
There is also a Money Back Guarantee of 30 Days If you don't see any outcome you can claim your money back.
Check Out some Testimony where people earned from this course